Friday 8 to Sunday 31 October 2010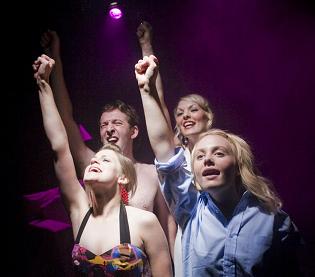 "Heroin(e) for Breakfast is quite astonishingly accomplished, so beautifully written,
staged and acted that it takes one's breath away.
Philip Stokes' play (which he also directs with wit and invention) is about the seductive,
destructive charms of heroin, here personified in a Marilyn Monroe-like character called Heroin(e),
who enters the lives of three young flatmates.
They share some dark secrets, and the last fifteen minutes
– when Heroin(e) triumphantly works her fatal attraction –
are shocking and breathtakingly sad".
Veronica Lee – The Sunday Telegraph *****


"HORIZON ARTS ARE ONE OF THE UK'S MOST EXCITING NEW THEATRE COMPANIES.
THEIR CONNECTION TO TEENAGE AND YOUNG ADULT AUDIENCES
IS VITAL AND DOWN-RIGHT THRILLING"
BBC RADIO
HEROIN(E) FOR BREAKFAST
caused a sensation at its 2009 world premiere
at the Edinburgh Fringe receiving critical acclaim
and winning both the coverted Adelaide Theatre Award
and The Fringe Review Award for Outstanding Theatre
"Heroin(e) for Breakfast...
is a stonkingly good play by Philip Stokes
about the effects of heroin addiction, but so many critics have left the venue visibly distressed
by its heart-wrenching ending that the theatres sharing-and-caring press officers
are now inviting reviewers into their office for restorative tea and hugs after the show". The Observer
other notable productions
home page