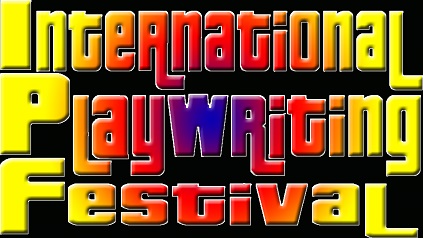 1986 to 2002 IPF 03 IPF 04 IPF 05 IPF 06 IPF 07 IPF 08/9
IPF 10 IPF 11 IPF 12 IPF 13 Warehouse Phoenix home
---

2007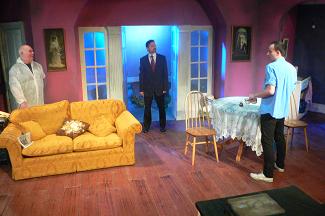 600 Plays from more that 15 countries across the world
were submitted to IPF 2007
The Festival Weekend took place on
Sat 24 & Sun 25 November 2007
when the following plays were showcased
The three official selections:
BARRICADING EDEN by Brierley Thorpe (UK)
is set in an East End allotment and is an entertaioning and
well characterised treatment of current issues.
CLOCKED by Neil J Flynn (Ireland)
is an intriguing and unconventional play in a very conventional setting.
(see picture above from 2008 production at the Warehouse Theatre)
GOOD PEOPLE by Carolyn Burns (Australia)
is very topical, funny and serious, takes place in America
and concerns the impact of a son returning from Iraq to his family.
Short snapshots of plays admired by the judges were also shown:
THE ISLAND OF NO TOMORROWS by Mary Fengar Gail (USA)
An extraordinary world is brilliantly realised in this epic and very moving play.
OUIJA! by Stephen Jackson (UK)
A dark farce about death, magic, superstition, fear and trousers.
THE JACARANDA TREE by Alex Broun (Australia)
A sensitely written play with very believable characters and a surprising ending.

Contributions also came from the Warehouse Theatre's international partners,
Extra Candoni from Italy:
CANTO PER FALLUJAH (Aprendo Le Porte dell'Inferno) by Francesco Niccolini
A conversation (of sorts) between an American soldier,
marooned in a house one night in Fallujah when the other soldiers
in his platoon have been ambushed and killed,
and an educated English-speaking Iraqi woman, an archeologist.
Theatro Ena from Cyprus:
GOLGIA by Maria Marmara
This powerful play is set in the aftermath of the 1974 war in Cyprus,
and is centered around the life of Golgia, a young woman
who is found in the middle of a personal and political dillema.

The BRIT School
DOWN THE NAG'S HEAD by William Wood
In this exploration of British drinking , four actors take on the diverse characters
found in a typical pub.
Warehouse Writers' Workshop
THE NATIVITY by Paul Sayer
A very funny take on the famous story.
DON'T CRY DOCTOR MITCHELL by Sara Pascoe
A surreal variation of a familiar situation.
BABY JAY'S BEDROOM by Janice Okoh
A crisply written piece of urban legend.
contact us vis Facebook