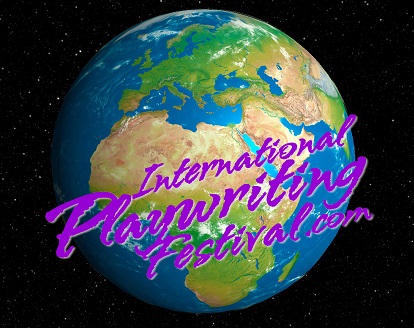 Background & IPF 86 - 02 IPF 03 IPF 04 IPF 05 IPF 06 IPF 07 IPF 08/9
IPF 10 IPF 11 IPF 12 IPF 13 IPF14 IPF15 Warehouse Phoenix home
2014
Fairfield Halls Croydon
Saturday 17 May 5pm
IPF snapshot 10 min excerpt
MARIE ANTOINETTE BARES ALL TO BOARD
THE NATIONAL DISTRESS
by Lita Doolan (Oxford)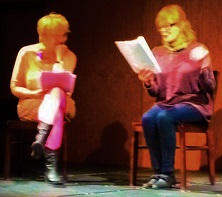 The only people left in an off West End Theatre due to be closed
as a result of Council cuts
are a disabled female seamstress, Marie, an ex jail bird actress
and a transgender burlesque dancer now a caretaker...
Directed by the cast: Sally Faulkner Anna Savva & Jan Waters
IPF selection 30 min excerpt
MAN WITH NO TIES (ex Thicker Than Water)
by Peter Briffa (Bethnal Green)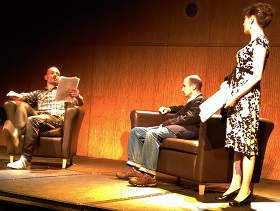 High-achieving lawyer Jack and the beautiful Vanessa come back
from a successful date.
Enter Victor, Jack's manic depressive left-wing firebrand
younger brother, ruining everything...
Director Mark Norfolk Cast Lee Colley, Jethro Dykes, Kate Sandison
Peter Briffa's first play NIGHT OF THE FOX was staged at Sadler's Wells in 1996.
His second play SIREN opened at the Etcetera Theatre in 2010.
His third play COUNTRY LIFE started out on the Camden Fringe in 2011,
before transferring to the Old Red Lion Theatre, Islington, for three weeks.
It has since been broadcast by Wireless Theatre Compan
and will be published by Third Age Theatre in November 2013.
7pm
EXTRA CANDONI (CSS) Italy 30 minute excerpt
EL FIN DEL ARTE
by Rafael Spregelburd (Argentina)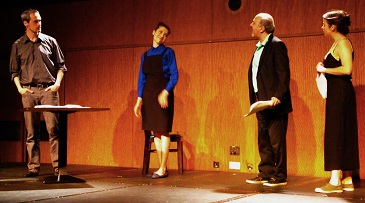 This play, written in Spanish and Portuguese consists of two different acts:
The End of Art and Bureaucracy.
CSS, the major theatre company in Udine, premiered the first Italian performance
as FURIA AVICOLA (CHICKEN FURY) in the winter with great success.
Translated and directed by Juan Echenique
(presented in Spanish, English and several other European languages)
Cast Juan Echenique, Olga Wieckowska, Pia Laborde Noquez, George Savvides
IPF selection 30 min excerpt
NGWASI
by David Klempner (Croydon)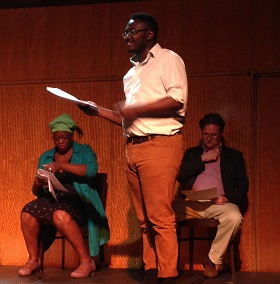 Henry Chipembere is an ex-minister of the Malawian Government.
He is under house arrest,
having been politically outmanoeuvred by a ruthless Hastings Banda.
His wife wants him to flee to America,
but he is haunted by his failure and the death of his friend
and fellow activist Dunduzu Chisiza who died in a suspicious road accident...
Director Robin Kingsland
Cast Charles Armstrong, Babou Ceesay, Aicha Kossoko, Anthony Ofoegbu, Neil Reid
David Klempner was born in Cape Town in 1967 and in 1969
his parents emigrated to the United States,
finally settling in San Francisco. He went to Cambridge University in 1987,
studying Physics and graduating in 1990.
After a succession of jobs David started teaching Physics in 1998 and currently teaches
at Trinity School, Croydon. He started writing seriously about eight years ago.
He's had a radio play transmitted in the US, and his play THE FALCON
was produced at the Rosemary Branch Theatre in November 2009

Sunday 18 May 5pm
Theatro Ena, Nicosia, Cyprus 30 minute excerpt
THE COLLECTION
by Yannis Agisilaou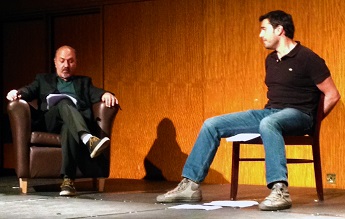 A man has tied up an intruder in a chair; he is gagged and unable to talk.
When the gag is finally removed the power games begin in this suspenseful thriller.
Director Andreas Christodoulides Cast George Savvides Orestis Sofokleous
IPF selection 30 min excerpt
SECOND THOUGHTS
by Neal Mason (Albania/ Wiltshire)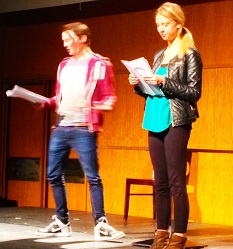 Ashton, a thief who steals antiques to order, suspects that choice
is an illusion, a point disputed by Jan - a student searching for a sense of herself.
Their meeting, while both are breaking into the same antiquarian bookshop,
is the first of a series of apparent coincidences.
Their break-in proves far more revealing than either of them expected...
Director Chryssanthi Kouri
Cast Joanna Brookes Grace Parry Robin Kingsland Owen Petrie
Neal Mason has recently returned from Albania and had many successes
in competitions and his work has been broadcast and published,
including two books of poetry.
He was awarded a bursary by the Arts Council
and has advised on the Arts Council's Grants to Publisher's Panel.
Under the Writers on Tour scheme Neal has visited
numerous writers' groups and schools.
7pm
Looking back on 28 years of the IPF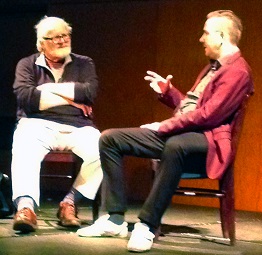 JAMES MARTIN CHARLTON (1993 Fat Souls)
in conversation with JEREMY KINGSTON
author & drama critic (The Times)

IPF selection 30 min excerpt
HOT RAIN
by Heather Uprichard (Rotherhithe)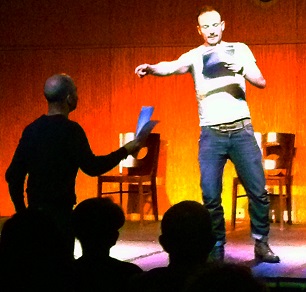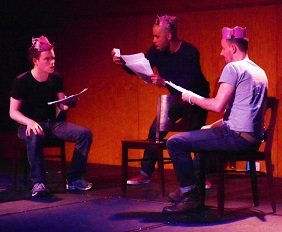 War has decimated civilization and a lethal RAIN is coming.
Jan (the last civilian) & Vic (the last soldier) shelter together.
A strange domesticity develops from their forced intimacy.
Then Dom arrives bringing belief in a future civilization with him...
Director Ted Craig Cast Lee Colley Ashley Gerlack Thomas McNulty
Heather Uprichard studied in London, where she met
some like-minded people and set up
a theatre collective called Shunt (1999-now).
With Shunt she created and performed in shows, largely defined
by a collaborative authorship
and outside of conventional theatre. Over the past few years
she has concentrated on developing her own writing for theatre.
This is her first full-length theatre script.

IPF Technical Management:
Graham Constable (Warehouse Phoenix) & Robb Sykes (Fairfield)
International Playwriting Festival 2014
was produced by George Savvides & Ted Craig

contact us via Facebook

home page
International Playwriting Festival
is produced by Warehouse Phoenix Limited